Adventures in Time (C16 + Plus/4)

Psytronik Software is very pleased to present our first release for the Commodore C16* & Plus/4 systems - 
ADVENTURES IN TIME
. This amazing platform game features an intro sequence to set the scene, superb fully bitmapped in-game graphics and absolutely stunning music. Take control of the cute yellow snorkel-headed hero and prepare yourself for some exciting 
ADVENTURES IN TIME
! 
* Requires 64K RAM expansion to work on a C16.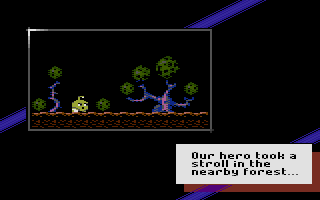 The game is
NOW AVAILABLE
in two different formats.  The 
PREMIUM+ DISK EDITION
 of the game is presented with full colour professionally printed double-sided artwork in a plastic disk case.  The 
BUDGET DISK EDITION
 features a 5.25" floppy disk which is presented in a full colour glossy disk-sleeve with a glossy label and printed instruction card.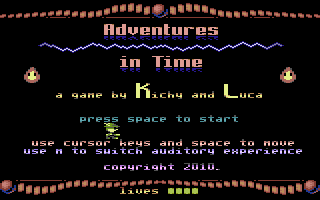 ** ADVENTURES IN TIME STORY **
During a walk in the woods one day our hero, a curious yellow snorkel-shaking bouncy thing, discovered some ancient ruins. Inside the ruins he found something rather unexpected - an ultra-super modern 
TIME SCRAMBLING MACHINE
. Being a curious little fellow our hero reached out to touch a tantalizing red button on the control panel ... A bright flash - and so begins his 
ADVENTURES IN TIME
!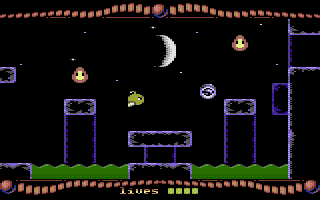 ** ADVENTURES IN TIME FEATURES ** 
· Runs on a standard Plus/4 or expanded C16! 
· Excellent presentation + intro sequence. 
· Supercute main hero. 
· Assorted animated baddies. 
· Great gameplay with controllable mid-air jumps. 
· Fantastic bitmapped game graphics. 
· Stunning soundtracks.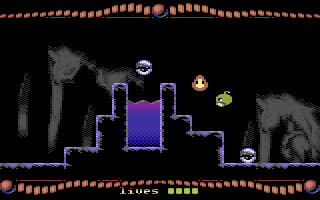 ** ADVENTURES IN TIME CREDITS **
Coding & Design by Kichy / Assassins. 
Music & Graphics by Luca / Fire. 
Cover artwork by Trevor 'Smila' Storey 
Packaging by Jason 'Kenz' Mackenzie