Sub Hunter (Amstrad CPC)

NOW AVAILABLE FOR THE AMSTRAD CPC 464 / 6128!!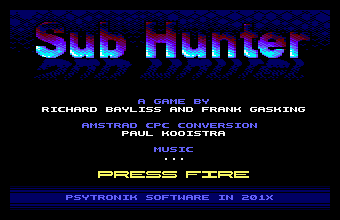 A scientific experiment to increase the size and number of fish in the sea has gone terribly wrong and now the oceans have been taken over by mutant fish. You must destroy the fish and save the swimmers who have become stranded in their midst. Watch out for agent subs that will do anything to keep this a secret ...
You are the SUB HUNTER!
The Psytronik Software mega-hit from Richard Bayliss & Frank Gasking is now available for the Amstrad CPC! The game has been converted to the Amstrad by Paul Kooistra, author of the superb CPC shoot 'em ups Star Sabre and Dead on Time. Paul has done a phenomenal job in converting Sub Hunter to the Amstrad CPC and the game features all 25 levels of sub-aquatic action from the C64 version, amazing multi-layered parallax scrolling, fantastic intro sequence, superb detailed graphics, varied missions including shoot 'em up levels, rescue missions and terrifying boss encounters.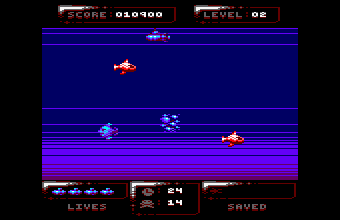 Sub Hunter is available on tape, 3" disk (while stocks last!) and as a FREE digital download for the Amstrad CPC in 2011.  The tape and disk versions are presented in high-quality packaging with full colour glossy artwork.
** SUB HUNTER CREDITS ** 
Amstrad CPC conversion by Paul Kooistra
Amstrad CPC music by Herve Monchatre
C64 version by Richard Bayliss & Frank Gasking

Cover design by Jason Kelk and Jason 'Kenz' Mackenzie
** SUB HUNTER CPC GAME FEATURES ** 
 25 levels to battle though
Multi-layered parallax scrolling
Superb CPC soundtracks by Herve Monchatre
Shark attacks, rescue missions and bonus stages!
Superb multi-coloured graphics & animation
Separate intro sequence featuring hi-res graphics